MISSION STATEMENT
Crossing Jamaica Avenue (CJA) is a multidisciplinary artist collective devoted to infusing cutting-edge contemporary American theater with time-honored Japanese theatrical aesthetics. CJA was founded in 1999 by a group of multidisciplinary and multicultural artists. Our company produces new plays, re-imaginings of classics, and a hybrid theater form that merges stories and poetry with music and movement. Our goal is to bring audiences an original theater experience, blended from the Western and Eastern aesthetics that constitute our signature.
STAFF/ARTISTS
SONOKO KAWAHARA
(CO-FOUNDER/ARTISTIC DIRECTOR)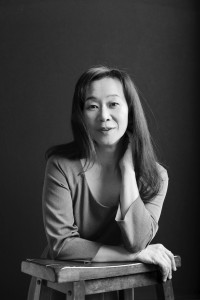 Originally from Tokyo, Japan, Sonoko Kawahara started her career as an actor/dancer and has appeared in some of Tokyo's most prestigious theaters. Kawahara came to New York to study with Anne Bogart in 1995. Since then, she has worked as a director, creating original theater pieces that integrate text, music, movement and visual elements. She has also worked on new plays which are revisions of classics by legendary writers such as Strindberg, W. B. Yeats, Chekhov and Shakespeare. Her works have been presented at notable NYC venues such as New York Theatre Workshop, Women's Project Theater, La MaMa, Performance Space 122, Music-Theater Group, HERE Arts Center, Dance Theater Workshop, Japan Society and others.
Kawahara has directed utilizing various art forms including Otome Bunraku for THOUSAND YEARS WAITING by Chiori Miyagawa (PS122); Beijing Opera for THE QUEEN SAYS FAREWELL by Marianne Moore (Connelly Theatre); Noh for NOH FUSION (NYTW); and Kabuki for THE CHERRY ORCHARD: FIRS'S DREAM (Chekhov Festival). Her other New York credits including THE CUCHULAIN CYCLE by W. B. Yeats and ANON(YMOUS) by Naomi Iizuka (Fordham University); A DREAM PLAY by Strindberg (Horace Mann Theater); BROKEN MORNING, WOMAN KILLER (HERE); and AWAKENING (PS122) by Miyagawa. She also developed a new music-theater piece titled The Rose Project with Obie Award-winning composer Deidre Murray, and most recently, directed DEADLY SHE-WOLF ASSASSIN AT ARMAGEDDON! (La MaMa) by Fred Ho and Ruth Margraff which received rave reviews in The New York Times and many other media outlets.
In 2012, Kawahara was invited by t.p.t., Japan's prestigious theater company, to direct a work-in-progress of THE CUYCHUAIN CYCLE. She also directed the Japan premiere of THE LENGTH OF THIS PLAY HAS THE HALF LIFE OF URANIUM by Suzan-Lori Parks and ISABEL WHO DISAPPEARED by Iizuka for Japan Playwright Association.
Kawahara's work has been supported by Rockefeller's MAP grant, the National Endowment for the Arts, Lower Manhattan Cultural Council, Japan Foundation's US-Japan Collaboration Grant, The Fund for Women Artists, The Nancy Quinn Fund, The Jim Henson Foundation, Asian Cultural Council, Asian American Arts Alliance and others. Kawahara received a Directing Fellowship from The Drama League and New York Theatre Workshop. She is a New York Theatre Workshop's "Usual Suspects", a member of Lincoln Center Theater's Directors Lab, and a former Resident Artist of Mabou Mines. Kawahara has been a Visiting Artist at Fordham University, NYU, an Artist-in-Resident at Boston University. She teaches as a lecturer at Princeton University in 2021 and at Montclair state University in 2022-2023 as adjunct professor where she shares her multicultural theatrical insights with young artists. MFA in directing from Columbia University School of Arts.
and an Artist-in-Resident at Boston University in 2019 where she shares her multicultural theatrical insights with young artists. MFA in directing from Columbia University School of Arts.
CHIORI MIYAGAWA
(FOUNDING CO-ARTISTIC DIRECTOR, 1998-2009)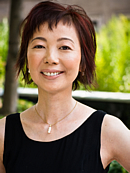 Chiori Miyagawa's is a NYC-based playwright. She enjoyed very productive ten years collaborating with her partner Sonoko and continues to admire her work.
Chiori's plays have been produced off-Broadway and regionally as well as by Crossing Jamaica Avenue. Twelve of her plays are collected in two books: Thousand Years Waiting and Other Plays and America Dreaming and Other Plays. She is an alumnus of New Dramatists, and a recipient of Radcliffe Advanced Studies at Harvard University, Rockefeller Bellagio Residency in Italy, and many other fellowships and grants. She teaches playwriting at Bard College.
SACHIKO NINOMIYA
(Managing Consultant)
Sachiko Ninomiya received B.A. in American Studies from Tokyo Gakugei University and M.A. in Performing Arts Administration from New York University. She is a Japanese classical dancer and a certified instructor of the Matsumoto School of Japanese Classical Dance, headed by the Kabuki actor Koshiro Matsumoto.  
Professional experience includes Program Assistant for the Arts Education Program at the Japan Council of Performer's Organization (Tokyo, Japan), Program Officer for Za-Koenji Public Theater (Tokyo, Japan), and experience as a development intern at LaMaMa E.T.C NYC), HERE Arts Center (NYC), and St. Ann's Warehouse (NYC). Sachiko is currently working for Blue Note Japan, NYC Office as an International Project Coordinator. 
Artistic Experience includes Performance for SHOOUKAI (National Theater, Japan) and various Japanese classical dance shows, choreography for JUDITH OF SHIMODA (LaMaMa, NYC), performance for Makelele University as a part of the NYU Dance Education Program (Makelele University, Uganda), and performance for the Women in Yeats project AT THE HAWKS WELL (LaMaMa, NYC).  
LARA MONES
(Projects Consultant)
Lara Mones received a Bachelor of Arts degree in East Asian Studies from Middlebury College and a Masters of Arts Degree in Arts Management from American University. Professional experience includes Festival Assistant for the Kennedy Center for the Performing Arts Japan! Culture + Hyperculture Festival (Washington DC), Festival and Projects Manager of Yellow Barn Music Festival (Putney, VT), Senior Program Officer in the Performing Arts Department of Japan Society (New York, NY), and Deputy Director of the Make Music Alliance (Brooklyn, NY). Lara is currently Managing Director of Scrag Mountain Music (Marshfield, VT) and works as a freelance consultant for a number of non-profit organizations. Lara also serves as an Advisory Board member for Kizuna Dance (Brooklyn, NY). 
AFFILIATE ARTISTS
Mark Campbell
Brian Nishii
Margi Sharp
Sophia Skiles
Daniel Sonenberg
Dale Soules
Hilary Spector
Theresa Squire
Mia Yoo
BOARD OF DIRECTORS
RANDE GAIL BROWN
The director of East West Communications, a company that specializes in cultural programming between the United States and Asia, most notably Japan. She has a degree in Japanese language and literature from Princeton University, and has translated numerous books on Eastern and Buddhist philosophy into English. Rande is a founding board member of Tricycle; the Buddhist Review and president of the Amitabha Foundation
JOHN K. GILLESPIE
A cross-cultural business consultant in New York City, Dr. Gillespie has written extensively on modern Japanese theatre and culture, includingAlternative Japanese Drama: Ten Plays (University of Hawaii Press, 1992),Japan: A Literary Overview (Council on National Literatures, 1993), A Bilingual Handbook on Japanese Culture (Natsume-sha, 2004), "Moment(um) of Memory: Metapatterns in Japanese Theatre Since the 1960s," in Modern Japanese Drama and Performance (Rowman & Littlefield, 2006), and edited the Modern Japanese Theatre section in theEncyclopedia of Asian Theatre (Greenwood Press, 2006). Dr. Gillespie earned his Ph.D. in Comparative Literature and Culture from Indiana University. He has worked as Director of the Japan Film Center and Performing Arts Program at Japan Society in New York.
VIRGINIA LINCOLN
SONOKO KAWAHARA
ADVISORY BOARD
JoAnne Akalaitis
Anne Bogart
Lynn Cohen
David Del Tredici
John Kelly
James Nicola
Andrei Serban
SUPPORT
y-storm: website http://y-storm.com/
Lara Mones