Deadly She-Wolf Assassin at Armageddon! (2013)
By Fred Ho and Ruth Margraff
Directed by Sonoko Kawahara
Go to web site of Deadly She-Wolf Assassin at Armageddon!
Co-production with Big Red Media & Spectrum Music
La MaMa Ellen Stewart Theater
Cool design with blood-red passion drives this martial arts tale, which touches familiar bases yet feels fresh, dynamic and fully realized.
The clashes are marvels, graceful and kinetic.
This production takes the art to a dancelike level, merging it with the multitalented Mr. Ho's jazzy score.
Mr. Ho – a prolific author, performer, jazz musician and opera composer, who conceived "She-Wolf" – has a lot to be proud of.
Expertly staged
Fred Ho (who wrote the script with Ruth Margraff), composed the jazzy score, a surprising fit with the period setting.
artful set design, gorgeous costumes and fight choreography elevated to heights of dancelike grace.
Ferocity and skill…richly layered…a beautifully varied array of performance…with both refinement and expertise… dazzling in virtuosity and engaging. In this tale, everyone is fallible…no one emerges unscathed from an allegiance to the sword.
Go to web site of Deadly She-Wolf Assassin at Armageddon!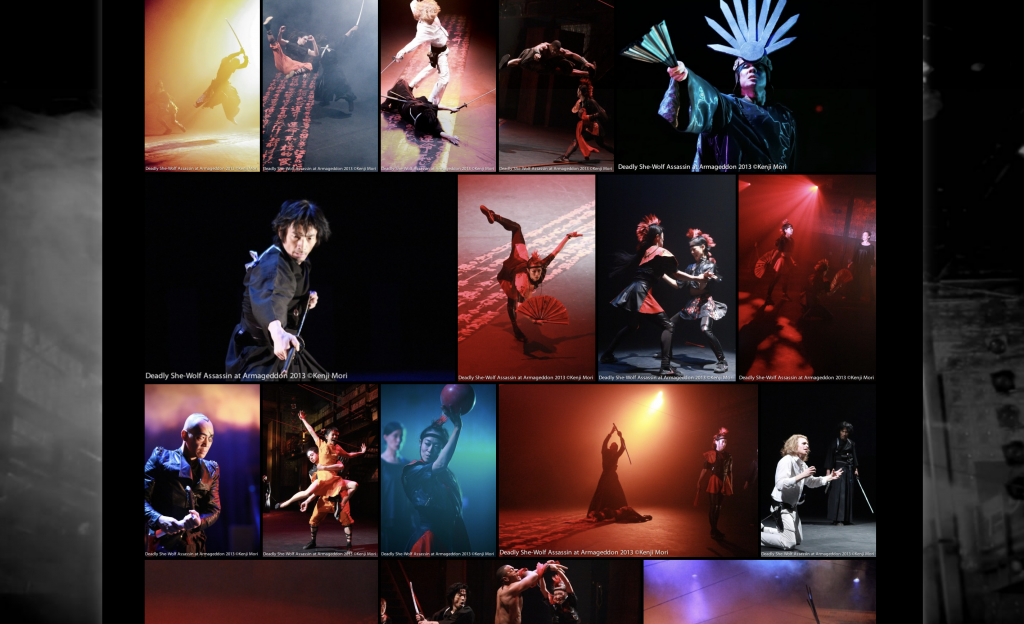 And more…
Joyfully innovative…elegant…a flurry of samurai sword-fighting, Matrix-like slow-mo maneuvering, and simple but universal exposition… – Woman Around Town
Perfect for all lovers of swashbuckling adventure with exotic flair… this exhilarating fusion of genres and cultures is both cutting edge and highly enjoyable. – Woman Around Town
Impressively choreographed by lead actor Yoshi Amao for swords and Emanuel Brown (Electro in Broadway's Spider-man: Turn Off the Dark) for martial arts beatdowns. – Libertas Film Magazine
The stagecraft of She-Wolf is quite impressive. – Libertas Film Magazine
A strong ensemble all around. – Libertas Film Magazine
will delight fans of Samurai comic books and films, and does so with a uniquely theatrical style. – TheaterForNerds.com
a MUST SEE! …a visual masterpiece. – The East Village
Beyond the baritone sax and the King Kong death palm-fighting style is a good story, one of facing the inner conflict of loyalty to one's country (or master) and loyalty to one's family (even if you didn't know you had one). – JapanCulture NYC
And they do this without saying a word. They tell their stories through the voice – or voices, rather – of the omnipresent, all-knowing Narrator, played by the impressive Marina Celander. – JapanCulture NYC
A sound, movement and lighting experience. – Asian in NY
Entertaining…impressive and cheer-inducing skill..(with) a story of loss and misplaced family loyalty. – Flavorpill
Fan-snappingly good. – Electronic Link Journey
The incredibly athletic actors are forceful and graceful, moving through the swordplay with swirling, spinning, and sometimes slo-mo virtuosity. – Electronic Link Journey
Go to web site of Deadly She-Wolf Assassin at Armageddon!