Touring Information for Momotaro: In Search of a Hero
Conceived, co-written and directed by Sonoko Kawahara
Co-written by: Leah Nanako Winkler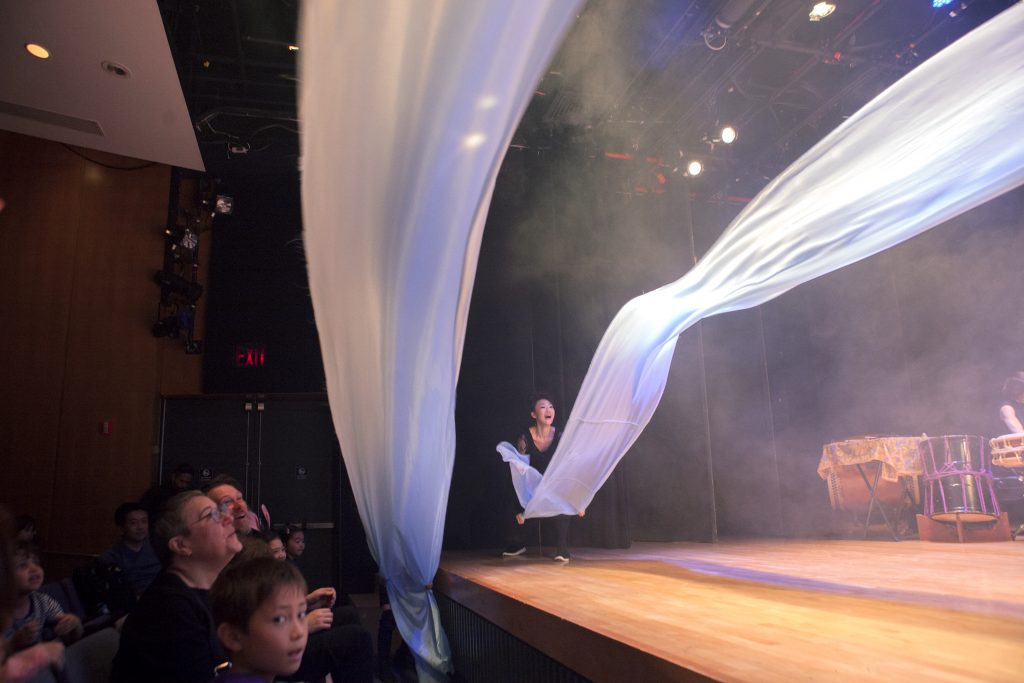 photos by George Hirose from Japan Society
An intercultural touring theater production with live music for young audiences and families.
Oni, you are different from us and we are different from you, but we can both exist in this world.
A story that highlights the importance of diverse cultural experiences for audiences of all ages
New York City-based theater company Crossing Jamaica Avenue (CJA), known for its seamless blending of Eastern and Western theatrical elements, presents Momotaro: In Search of a Hero, a unique take on Japan's famed tale "Momotaro," or "Peach Boy" about an adventurous hero who bravely travels to an island filled with dangerous ogres to safe his town. In CJA's innovative production, the four women cast – featuring a taiko/piano player, singer/dancer, and actors – retell the adventures of "Peach Boy" Momotaro in a gender-bending production. This highly interactive production tells the story through live music and song and dance, all cleverly narrated through the Japanese theater technique known as "tayu" where one performer narrates while the others perform. The production aims to bridge together one of Japan's most popular traditional hero quest stories with issues in contemporary American society in order to highlight lessons of cultural diversity, empowerment, and inclusion. 
Video Links from the 2018 version (Note: The 2019 version video will ready in mid-May)
Full Version (Wide angle): Password: MOMOTARO2-1
Full Version (Close up): Password: MOMOTARO2-2
Details for upcoming performances of Momotaro: In Search of a Hero on May 5, 2019 version at Japan Society.
For questions or more information, please contact Crossing Jamaica Avenue Artistic Director
Sonoko Kawahara at skawahara@crossingjamaicaavenue.org
Interaction with the audience
Photography by George Hirose (Japan Society)

Tour Fact Details
Dates for the Tour: Open to working with the schedule of the venue
Performance fee: $2,000 for 1 performance; $2,500 for 2 performances in one day (fee is negotiable)
Technical requirements:
– Piano
– Theatrical space with lighting equipment
– Technical director/staff who runs the lighting board
Schedule on-site:
Pattern 1: (2 days) Two shows on the same day
Day 1:
– Afternoon to evening: Load-in and dress rehearsal
Day 2:
– Two performances in the afternoon to early evening
Pattern 2 : (1 day) One show
Morning to afternoon: Load-in and dress rehearsal
One performance in the evening
Other: Presenter covers transportation for Taiko drums
For out-of-town (non-New York City) venues:
Presenter covers transportation for 4 performers, 1 Artistic Director and 1 Production Manager in addition to luggage and taiko drums.
Presenter covers per diem of $35 or the provision of meals for 4 performers, 1 Artistic Director and 1 Production Manager for each day of the tour.
Presenter covers lodging for 4 performers, 1 Artistic Director, and 1 Production Manager for the duration of the tour.
Inspirations and imaginations
Photography by Maria Baranova

About
Crossing Jamaica Avenue (CJA) is a multidisciplinary artist collective devoted to infusing cutting-edge contemporary American theater with time-honored Japanese theatrical aesthetics. CJA produces new plays, re-imaginings of classics, and hybrid theater forms that merge stories and poetry with music and movement. CJA's mission is to bring audiences original theater experiences using Western and Eastern aesthetics.  
Throughout its 18 year history, CJA has collaborated with playwrights Ruth Margraff, Lynn Nottage, Karen Heartman, Tanya Barfield; lyricist Mark Campbell; directors Anne Dorsen, Anne Kaufman; musicians Fred Ho, Bruce Odland, and Du Yun. The company has produced plays by co-Founder / former co-Artistic Director Chiori Miyagawa including AWAKENING, WOMAN KILLER, BROKEN MORNING, and THOUSAND YEARS WAITING featuring an Otome Bunraku puppeteer from Japan, along with original experimental pieces such as FAN MACBETH. 
CJA co-produced THE ANTIGONE PROJECT with the Women's Project and THE HIROSHIMA PROJECT with Voice & Vision, which was a composition of the production I HAVE BEEN TO HIROSHIMA MON AMOUR by Miyagawa, a reading of Japanese plays about the atomic bombings and a screening of Steven Okazaki's Emmy Award-winning documentary WHITE LIGHT/BLACK RAIN. CJA also co-produced the manga-music-martial arts piece DEADLY SHE-WOLF ASSASSIN AT ARMAGEDDON! by Fred Ho and Ruth Margraff which received rave reviews from The New York Times and other media outlets. (www.deadlyshewolf.org)
Currently, CJA is developing an adaptation of VERMONIA, a story based on a graphic novel in collaboration with Rosen Publishing, as well as a W.B. Yeats' play together with a traditional Japanese composer/member of Otome-Bunraku theater.
Dates for the Tour: Open to working with the schedule of the venue
SONOKO KAWAHARA (DIRECTOR): Originally from Japan, Sonoko Kawahara (Director) is New York-based theater director who has been creating original theater pieces that integrate text, music, movement, and visual elements, as well new plays and revisions of classics. She utilizing various art forms including Bunraku, Beijing Opera, Noh, and Japanese swordplay. Kawahara's works have been presented at New York Theater Workshop, Women's Project, LA MAMA, PS122, Music Theater Group, HERE, Dance Theater Workshop, Japan Society, among other venues. 
Kawahara's recent New York credits including THE CUCHULAIN CYCLE by W. B. Yeats and ANON(YMOUS) by Naomi Iizuka (Fordham Main Stage); and DEADLY SHE-WOLF ASSASSIN AT ARMAGEDDON! (La Mama) by Fred Ho and Ruth Margraff which received rave reviews from New York Times and many other critics. She developed a new musical theater piece about Tokyo Rose with Obie winning composer Deidre Murray and is directing SATELLITE by Dina Son in 2019. Kawahara lead workshops in Tokyo and has directed/translated the Japan premiere of short plays by Suzan-Lori Parks and Naomi Iizuka for the Japan Playwright Association.
As a Visiting Artist, Kawahara has been associated with Fordham University, NYU, Gallatin where she has led directing workshop class projects and directed several main stage seasons. She will be Artist-in-Residence at Boston University in 2019 where she will develop new cross-cultural theater infusing Japanese "Kagura" tradition and Native American and African American culture.
Her work has been supported by MAP, NEA, LMCC, Japan Foundation, The Fund for Women Artists, Nancy Quinn Fund, The Jim Henson Foundation, Asian Cultural Council, and others. Directing Fellowship from The Drama Leagues and New York Theater Workshop. Member of NYTW "Usual Suspects" and Lincoln Center's Directors Lab, Visiting Artist at Fordham University and NYU and former Resident Artist of Mabou Mines. MFA in directing from Columbia University School of Arts and a member of Japan Directors Association.
LEAH NANAKO WINKLER (TEXT) is a Japanese-American playwright from Kamakura, Japan, and Lexington Kentucky. Her play God Said This won the Yale Drama Series Prize and was produced at Primary Stages and at the 2018 Humana Festival. Other plays: Kentucky (2015 Kilroys List, World Premiere: Ensemble Studio Theatre co-production with Page 73 and the Radio Drama Network), Two Mile Hollow (2017 Kilroys List, 2017-2018 Simultaneous World Premiere at First Floor Theater, Mixed Blood/Theater Mu, Artists At Play, and Ferocious Lotus), Linus and Murray (EST/Marathon 2017) and more. She is the 2018-2019 Jerome Fellow at the Lark, an alumna of Youngblood, a 2016-2018 Time Warner Fellow at WP Theater, a member of the Ma-Yi Lab, and a member of the Dorothy Streslin New American Writer's Group at Primary Stages. She was awarded the first-ever Mark O'Donnell Prize from The Actors Fund and Playwrights Horizons in 2017. Leah is one of the inaugural playwrights to receive a commission from Audible's Emerging Playwrights Fund.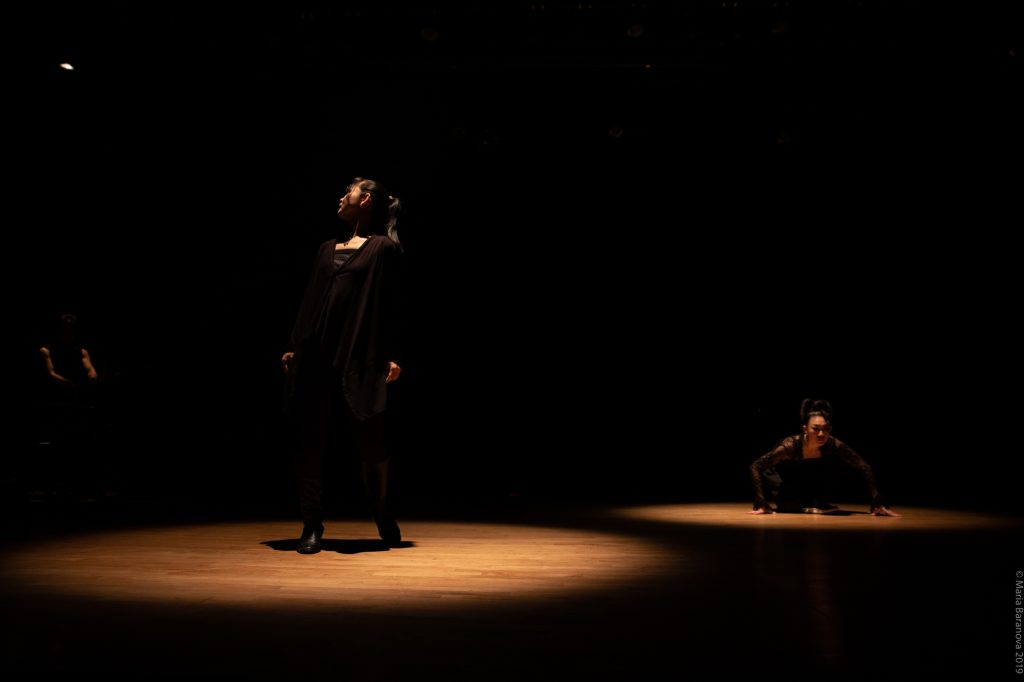 Photography by Maria Baranova