MOMOTARO -Peach Boy- (2017)
MOMOTARO (Peach Boy): A Quest of a Hero Comes from the Giant Peach
Conceived, co-written and directed by Sonoko Kawahara
Co-written by: Leah Nanako Winkler
Theater presentation is partially adapted from Momotaro, written by Tadashi Matsui, illustrated by Suekichi Akaba, published by Fukuinkan Shoten Publishers, Inc., 1965.

Japan's Children's Day Festival hosted by Japan Society Education and Family Program
at Japan Society's Lila Acheson Wallace Theater
Oni, you are different from us and we are different from you, but we can both exist in this world.
A story for an awareness of importance of diverse cultural experiences for all ages
A baby who was found inside of a giant peach grows into a boy of amazing strength. When he found out that his village was in danger and by the princess was abducted by a wicked oni (ogres), he and his trusted sidekicks—a dog, a monkey, and a pheasant—each one who represents benevolence, wisdom and bravery but does not get along well, set out to rescue the princess and save the village.
Culturally integrated, an interactive modern retelling of the Japanese classic folktale, the play explores the young warriors' quest to find the hidden truth of personal and universal harmony as well as compassion with songs, dance, martial arts, samurai sword fighting and live music of traditional Japanese drums and flutes.
Produced by the Japan Society's Family and Education Program, various festival craft items participants made on the day or beforehand were used as props during the theater presentation offering the audience an interactive experience with actors and a participation to the theatrical effects.
MOMOTARO & Students from NYC schools

STORY
A Long, long, time ago, there lived an old man and an old woman. One day, on old woman found a giant peach drifting down the stream. When the old couple tried to cut the peach open, a baby boy popped out of the peach. Rejoiced, because they could not have any children, they name him Momotaro (Peach Boy). He grew up strong and was a very kind young man and became very popular among the villagers. One day he found out that the village's princess was abducted by an oni. Sensing the danger that would come over to the village and his family, he decided to fight against the Oni. On the way to Oni-ga-shima (Ogre's Island), he met a dog, a monkey, and a pheasant; each admires Momotaro's strength but has their reasons to join Momotaro's quests. At the Oni-ga-shima, Momotaro faces overwhelming difficulty, however, with the support from three of his friends, they finally beat the Oni. The Oni offered Momotaro all of the island's treasure to save his realm from being destroyed. Despite the cries of victory of his sidekicks, Momotaro found his real reason for this quest and faced the moment of decision.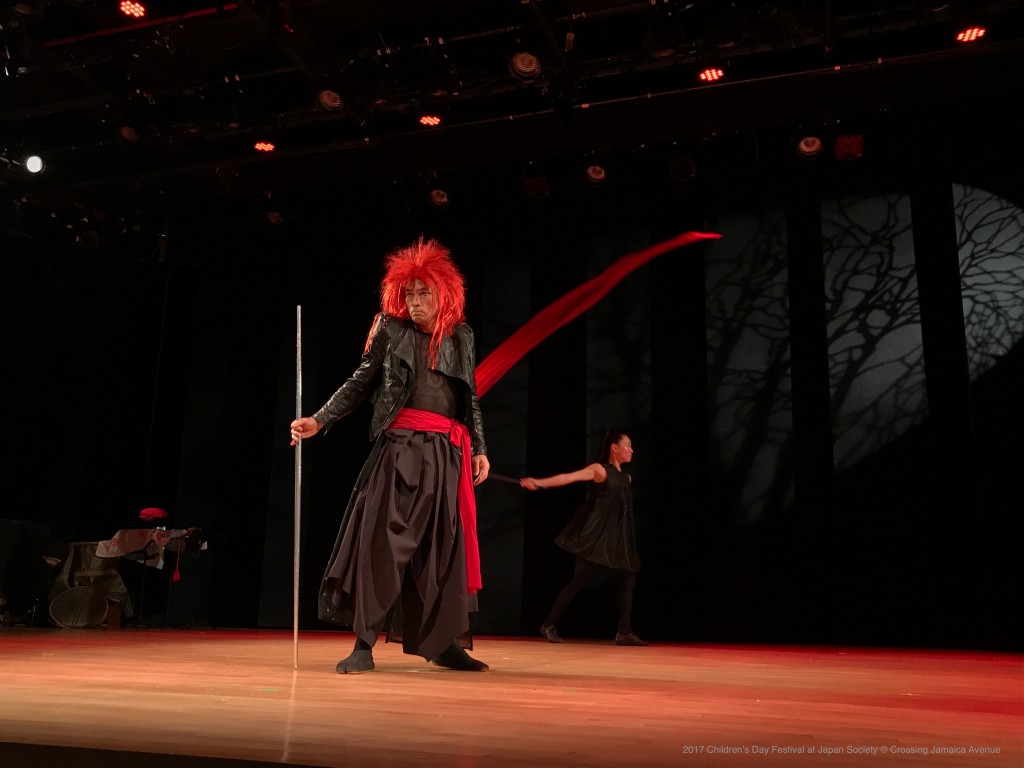 Production Credits
Conceived, co-written and directed by Sonoko Kawahara
Co-written by: Leah Nanako Winkler
Performed by
Asuka MorinagaOneesan (MC/Hime)
Kazuhiro Imafuku (Momotaro)
Yoshi Amao (Oni)
Kiyo Takami (Dog/Obaasan/Singer1)
Tomoko Tokugaki (Monkey/Ojiisan/Singer2)
Ai Ikeda (Pheasant/Crow/River)
Fumi Tanakadate (Taiko/Fue/Piano)
Fight choreographed by Yoshi Amao
Dance choreographed by Tomoko Tokugaki
Lighting by Takaaki Ando
Production assistant: Yuki Okamoto
May 7: Performance in Children's Day Festival for Families and Children (public program)
May 8: Performance for NYC School Groups (closed program) MOMOTARO & Students from NYC schools

MOMOTARO (Peach Boy): A Quest of a Hero Comes from the Giant Peach is supported by the Mental Insight Foundation and The Nancy Quinn Fund, a program of the Alliance of Resident Theaters/New York (A.R.T./New York).
5/8 Performance for School Groups is also supported by The Japan Foundation Center for Global Partnership and the United States-Japan Foundation.